Syva Hair Thickening Fibers and review – By  Annie Myrén
How to enhance your locks and beat your hair at its own game
Finally – Make-up for your hair!!!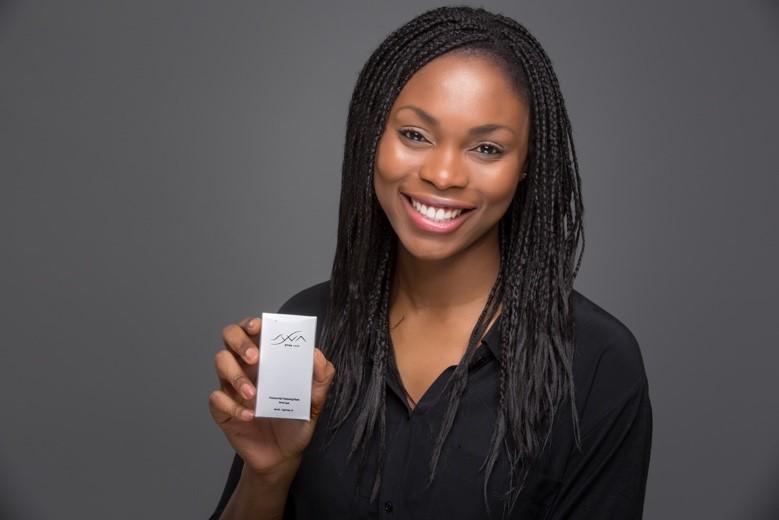 Can you nod yes to having thin edges, scalp show-through and thin patches or know someone who does? Then this blog post is for you.
Do you know the feeling of looking at yourself in the mirror just to realize that the person you wish to see with thick, lush hair is not quite the reflection looking back at you? Yup! I've been there…too many times actually, to tell the truth.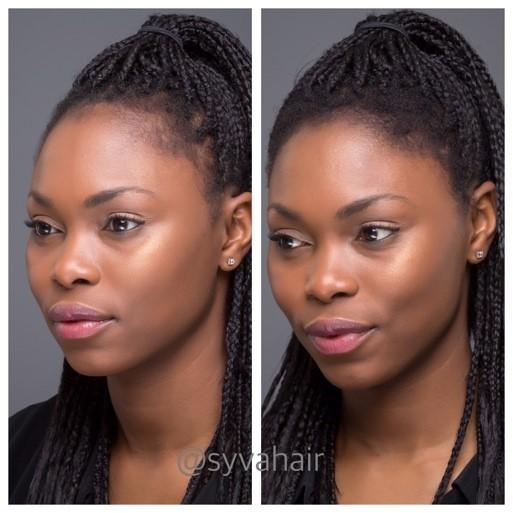 I would look at magazines and Youtube channels to find inspirational hair styles to recreate at home just to end up once again in front of the mirror with my fine hair and oh yeah…thin edges… Ultimately, failing at achieving my desired hairstyles.
I do take the blame for the condition of my hair. As most black women, I didn't know how to care for my hair until I was basically forced to. For years I wore weaves, braided my hair in tight styles and kept the styles past the expiration date- which I am sure many can identify with out there – I see you. The last straw was in 2006 when an old relaxer for coarse hair was applied on my fine hair by a so-called-beautician and the horror of finding myself holding the remains of much of my hair in my hands. That was my wake up call to do something – anything!
Doing something – anything to get my hair healthy again had a cost as I found myself dealing with self-esteem issues as a result. You see, for years weaves and braids where my shield, my beauty armor which I wore daily and was now forced to give it up in fear of going bald. Truthfully speaking, my natural hair in its kinky afro state was foreign to me and so was this new person looking back at me in the mirror – I just didn't feel beautiful anymore.
I did a lot of research on hair growth products, using Jamaican Castor oil, taking Biotin, vitamins and just trying to eat healthier to speed up my hair growth. Long story short, my hair grew, at a slow pace, but my edges just didn't budge and kept on resisting up until today. After years of frustration that my edge's just were not growing back and couldn't get my hair to look the way I wanted it to for those special occasions, I decided to create Syva Hair Thickening Fibers.
Syva Hair Thickening Fibers is a unique comestic formula for men and women. The product is dedicated to give you fuller and thicker hair in just 30 seconds. It comes in 9 diffeenct colours and is suitable for all hair types.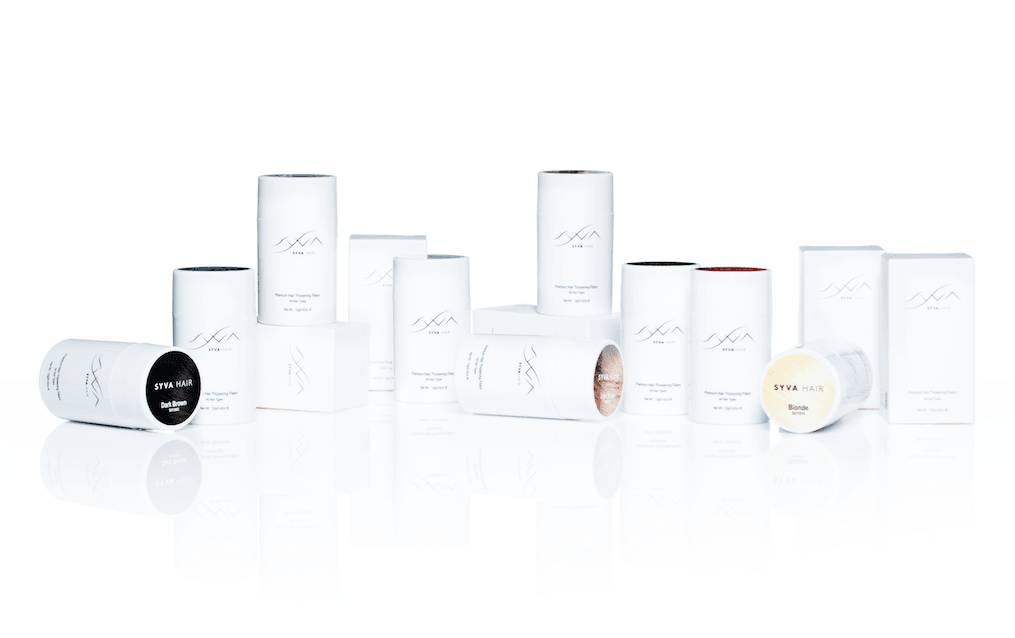 It works by sprinkling the fibers on the thinning area of your hair and through electro-magnetic attraction between the fibers and your hair, the solution makes every single hair strand look thicker and fuller covering your thin spot. (Please note that this will not work if you are bald, this product requires you to have some baby hair for the fibers to cling to ).
Syva Hair Thickening Fibers is a constant part of my beauty regimen and due its natural ingredients which are free of bactericide and perservatives I am able to use it daily on my hair. I apply the product when wearing my afro hair in a high bun, or when wearing braids, weaves, cornrows or just to touch up the parting on my wigs. The possibilites are endless to how you can make this product work for you – i.e it can also be used to cover your greys!
10 years later since that last relaxer, I now know how to care better for my natural hair and wear protective styles whilst supplementing my hair growth regimen with a here-and-now cosmetic solution using Syva Hair Thickening Fibers. The hair fibers help me eliminate the appearance of my thin edges, and make it easier to create my desired hairstyles. It has truly transformed my look and rebuilt my confidence.
For more product information on Syva Hair Thickening Fibers, please visit www.syvahair.com and follow us on Facebook www.facebook.com/syvahair.
All Black Vogue members are eligible to a 40% discount on their total purchase upon using the discount code BLCKVGE7 before Sunday, July 17th, 2016.